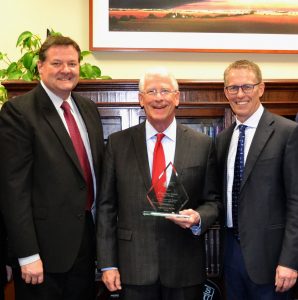 The Agricultural Retailers Association (ARA) held its annual Board of Directors and Committee Meetings in Washington, D.C. this past week, which included an intense day of visits with Congressional representatives.
ARA also presented its Legislator of the Year award to members of Congress who champion legislation important to the agricultural retail industry and this year the organization recognized Senators Chuck Grassley (R-IA) and Roger Wicker (R-MS) with its 2018 Legislator of the Year award. Sen. Wicker is pictured here receiving his award from ARA President and CEO Daren Coppock (left) and chairman Troy Johnson of Wilbur-Ellis.
"We are pleased to honor two very deserving Senators this year with our Legislator of the Year award," said Coppock. "We are grateful for their dedication and continued support of the agriculture industry."
Senator Wicker was honored for his support on important industry issues, such as promoting precision agriculture and rural broadband deployment. Sen. Grassley was recognized for his leadership as chairman of the Senate Judiciary Committee. A longtime supporter of agriculture and agriculture retail, this is the second time Sen. Grassley has been honored as ARA Legislator of the Year.
The big news of the week for ARA was the formalizing of an alliance between ARA, The Fertilizer Institute and the Occupational Safety and Health Administration (OSHA) to enhance workplace and community safety. "Safety is much larger than one person or one company," said Coppock. "Safety also means being a good steward – a good steward of the land, business, employees, and the communities in which we operate. This alliance is a positive step for ARA, TFI, and OSHA to work together on an issue that is top of mind for ag retailers."
Coppock talks about the new alliance and ARA's week on the Hill in this interview.