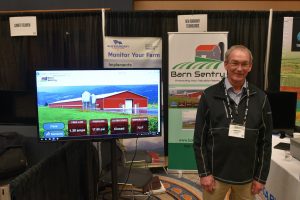 John Deere dealers attending the Develop with Deere Conference in Chicago were among the first to see a new barn monitoring system with the launch of Barn Sentry from New Boundary Technologies and Mel Foster Company.
The product is designed especially for farmers with hog, turkey and chicken operations and it has the ability to send data from New Boundary's RemoteAware service into the John Deere Operation Center. Farmers can then see alerts and data with the Operation Center or in a mobile app.
"We believe the John Deere dealer network is the ideal network to work through, because of their close relationships with their customers, and the fact that we are already sending the data into Operations Center, we feel that they will find more value in that than maybe some other dealers will," said Martin Miller, Application/System Engineer with Mel Foster Company.
Barn Sentry includes a monthly monitoring service that provides the cellular service and the RemoteAware application service. The system is easy to install in new or existing barns. Barn Sentry is available through Mel Foster Company and its authorized dealers. For information, contact Martin Miller, martin@melfoster.com.
Listen to Chuck's interview with Martin here: Interview with Martin Miller, Mel Foster Company