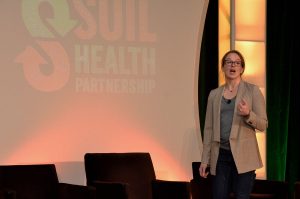 The theme for the 2019 Soil Health Summit was "Rooted in Data, Growing Success" and gathering data about soil health practices has been the focus of the Soil Health Partnership (SHP) since the beginning.
SHP lead scientist Maria Bowman presented some of the latest data they have gathered. "A lot of our farmers are improving their soil organic matter and that's a key soil health indicator," said Bowman. "We've been finding that our farmers are increasing soil organic matter from about a third to a half percent during their first few years in the program."
Even more importantly, early in-field research shows no statistically significant yield drag from using cover crops.
Listen to the interview and presentations below to get more details.
SHS19 Interview with Maria Bowman, Soil Health Partnership
Opening General Session – A New Year in Soil Health – Dr. Shefali Mehta, Dr. Maria Bowman
Opening General Session – 1
2019 Soil Health Summit Photo Album
Read more from the Summit on the Soil Health Summit blog.