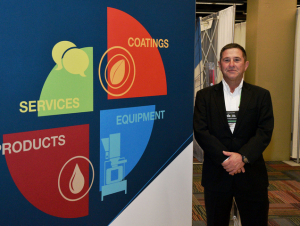 Response has been positive to Bayer's Fluency Agent Advanced, a seed lubricant the company introduced last year. The product helps not only with seed lubricity, but also with reducing dust that may escape during the planting process.
"It's primarily for corn and soybeans," said Bayer's Bill Striegel. "We introduced it for corn, but it works just as good for soybeans. It's a good replacement for either talc or talc-/graphite or graphite. It will work on all types of planters."
Striegel said more information about the product is available from local dealers or at cropscience.bayer.us. Striegel was at the American Seed Trade Association CSS 2018 and Seed Expo in Chicago.
Listen to Chuck's interview with Bill here: Interview with Bill Streigel, Bayer Fluency Agent Advanced
Bayer at ASTACSS18 Photo Album