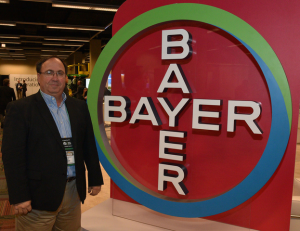 Cotton growers continue to look to Bayer for its strong fungicide product line and industry leading seed treatments. While some crop protection products for cotton have failed due to resistance issues, Aeris continues to perform well with two modes of action to fight against insect damage.
"Anything you can do to get that crop off to a good start leads to a higher yield potential for cotton," said Chip Graham, Bayer Seed Treatment Technician.
Graham said Velum Total is another product that is helping cotton growers, particularly in Texas and Georgia where nematode pressure is also high. Graham said these products proved benefit even under perfect weather conditions, but they really shine when adverse weather creates challenges for the crop. Graham was at the 2018 American Seed Trade Association CSS and Seed Expo in Chicago.
Listen to Chuck's interview with Chip here: Interview with Chip Graham, Bayer Seed Treatment technician
Bayer at ASTACSS18 Photo Album