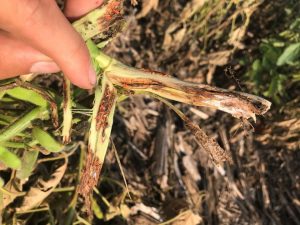 A new pest is popping up in soybean fields across the country – the orange gall midge.
"It's a very tiny fly that lays its eggs in the stem of a soybean plant," said FMC Agricultural Solutions subject matter expert Bob Hooten during an interview at the annual NAFB Trade Talk last month in Kansas City. Bright orange maggots develop from the eggs and eventually kill the plant.
The pest was reported in Iowa, Nebraska, Minnesota and South Dakota this year and FMC is working with university researchers in those states. "The universities have done DNA mapping and are trying to figure out the species now and then we're trying to figure out control measures and how to manage this pest to keep it from expanding further," said Hooten.
Learn more in this interview.
NAFB18 Interview with Bob Hooten, FMC – Gall Midge