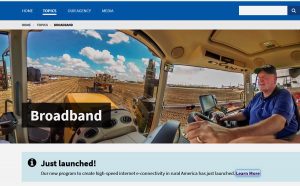 USDA is offering up to $600 million in loans and grants to help build broadband infrastructure in rural America. Telecommunications companies, rural electric cooperatives and utilities, internet service providers and municipalities may apply for funding through USDA's new ReConnect Program to connect rural areas that currently have insufficient broadband service.
"High-speed internet e-Connectivity is a necessity, not an amenity, vital for quality of life and economic opportunity, so we hope that today rural communities kick off their rural broadband project planning," said Agriculture Secretary Sonny Perdue.
Projects funded through this initiative must serve communities with fewer than 20,000 people with no broadband service or where service is slower than 10 megabits per second (mbps) download and 1 mbps upload. Approved projects must create access speeds of at least 25 mbps download and 3 mbps upload.
"When Congress wrote the 1996 Telecommunications Act, it promised rural America it would one day have broadband Internet service equal to the rest of the country. We're not quite there, but 25-megabit downloads and 3 megabits up is the sort of speed we've been waiting for," said American Farm Bureau Federation President Zippy Duvall.
To help customers with the application process, USDA is holding a series of online webinars and regional in-person workshops. The full list of upcoming public webinars and workshops can be found at the ReConnect Program's resource portal at reconnect.usda.gov.