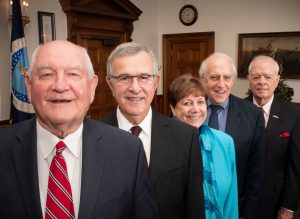 Just days after the passing of former Secretary of Agriculture Bob Bergland, four former secretaries met with current Secretary Sonny Perdue to discuss the latest agricultural issues.
Those in attendance included former Secretaries John Block (1981-1986), Dan Glickman (1995-2001), Ann Veneman (2001-2005), and Mike Johanns (2005-2008). The Secretaries discussed several issues including trade, wildfires, agriculture research, infrastructure, cell-based meat, and rural prosperity.
The last time the four were together at USDA was in 2012 to celebrate the agency's 150th anniversary. Three other former secretaries still living are Mike Espy (1993-1994), Ed Schafer (2008-2009), and Tom Vilsack (2009-2017). Espy recently lost his bid to replace retiring Mississippi Senator Thad Cochran in a high profile runoff election.
Bergland, a Minnesota farmer who served as secretary under President Jimmy Carter from 1977 to 1981 died December 9 at the age of 90. He also served as vice president and general manager of the National Rural Electric Cooperative Association until he retired in 1992.
In 2012, Bergland joined former secretaries Block and Yeutter at the NAFB Convention. Enjoy his opening comments here – Former ag secretary Bob Bergland at 2012 NAFB