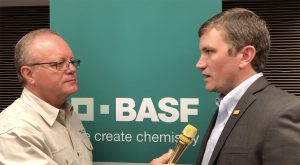 BASF has expanded its soybean seed treatment portfolio with the launch of Vault® IP Plus seed treatment and Obvius® Plus fungicide seed treatment, recently registered by the Environmental Protection Agency (EPA). Both products will be commercially available in September 2019. I spoke with BASF's Justin Clark to learn more about these products.

With the launch of Vault IP Plus seed treatment, BASF sets new standards for seed inoculation and protection. It's the only combined inoculant and EPA-registered bio-fungicide, containing two active biologicals for improved fungicidal activity and protection.
"Soybean growers can benefit from Vault IP Plus seed treatment, as it delivers increased root nodulation and disease protection for an overall healthier soybean plant," said Justin Clark, Technical Marketing Manager, BASF. "The highly effective rhizobia are produced fresh every year to increase overall nodulation and maximize nitrogen fixation potential."
Obvius Plus seed treatment supports faster emergence and healthier plants. The new seed treatment delivers four-way disease protection that helps growers get their soybean crop successfully established earlier in the season.
"While early planting allows soybeans to intercept more sunlight for better photosynthesis, this practice also exposes newly planted seeds to potential damage from fungal infections while the soil is still damp and cool," said Clark. "Obvius Plus seed treatment offers protection from key diseases such as Phytophthora, Pythium, Fusarium and Rhizoctonia."
Growers can learn more about Vault IP Plus and Obvius Plus seed treatments by contacting their BASF representative or visiting agproducts.basf.com.
Learn more about these products by listening in to my interview with Justin:
Interview with Justin Clark, BASF