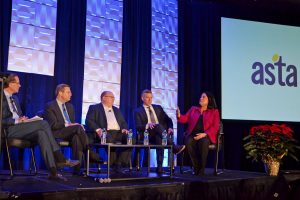 The past two years have seen major changes in the agricultural seed industry and some of the traditional companies have different names and different players. That's why the "Majors after the Mergers" panel was a big hit at the ASTA 2018 CSS and Seed Expo this week.
Dan Basse, Ag Resource, moderated the panel which consisted of Jim Collins, Corteva; Scott Kay, BASF; Jeff Rowe, Syngenta; and Lisa Safarian, Bayer.
It was a long and very interesting panel, so we split up the audio into opening remarks and panel discussion.
Opening remarks ASTA Majors after the Mergers panel
Opening remarks ASTA Majors after the Mergers panel