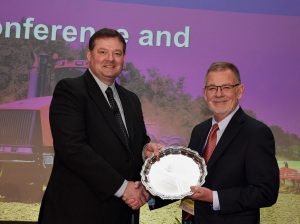 The Agricultural Retailers Association (ARA) presented Larry Yargus with its highest individual honor this year, the Jack Eberspacher Lifetime Achievement Award.
In 1992, Yargus acquired Layco, the company his father Lloyd Allen Yargus founded, and led the company's transition to Yargus Manufacturing, Inc. "Not only has Larry led his family business to major success, celebrating its 50th anniversary this year, but he has played a pivotal role in helping to guide ARA to be the strong organization it is today," said ARA President and CEO Daren Coppock.
Established in 2001, the ARA Lifetime Achievement Award was renamed in 2010 after the late Jack Eberspacher, who served as ARA President and CEO from 2001 until his death in 2009. The award is designed to recognize career-spanning achievements in and contributions to the agricultural retail industry.
Listen to Yargus' remarks here –
Remarks from Larry Yargus, 2018 ARA Lifetime Achievement award