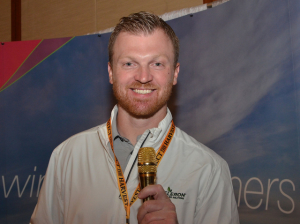 Bayer's Acceleron Seed Applied Solutions Group wants to take farmers beyond the traditional approach to using seed treatments, which usually includes only fungicide and insecticide products.
"Within Acceleron, we think we can really elevate from that two-part approach to a more holistic, more complete four-part approach," said AJ Hohmann, U.S. Marketing Manager for the Acceleron group. "Obviously, we've got fungicides and we've got insecticides, but we also have a really large offering of biologicals underneath our Acceleron BioAg umbrella, as well as elevating nematicides."
Bayer will launch Nemastrike Technology in 2019, offering 75-day control. That means killing two or possibly three life cycles of nematodes. It also controls a wide variety of nematodes that goes far beyond Soybean Cyst Nematode (SCN). The technology will be available not only for soybeans, but also for corn and cotton. It is approved commercially for growers to use in 2019. Hohmann was at the 2018 National Association of Farm Broadcasting Convention in Kansas City.
We'll learn more about Bayer Seed Applied Solutions at the upcoming ASTA 2018 CSS and Seed Expo.
Listen to Cindy's interview with AJ here: NAFB18 Interview with AJ Hohmann, Bayer
2018 National Association of Farm Broadcasting Convention Photo Album