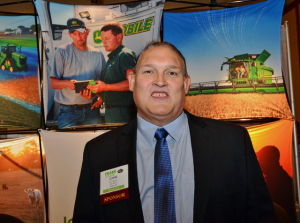 The newest equipment from John Deere comes to farmers with some technology components that are now standard, making it easier for growers to collect, analyze and use available data.
"Out of the box, so to speak, they can really engage with precision ag with guidance and with documentation," said John Mishler, product specialist with John Deere. "It really comes back to data driven decisions. Every pass through the field we use auto track to make the best pass that we can, reducing cost by minimizing overlap, reducing skips, making sure that we're doing the kind of work that we need to do, but also along the line collecting that data."
Mishler said farmers can then share that data with a crop consultant or ag retailer or anyone who helps them make decisions for their farm. He encouraged farmers considering expanding technology within their operations to go to a local dealership and ask questions or request a demonstration. Mishler participated in Trade Talk at the 2018 National Association of Farm Broadcasting Convention in Kansas City.
Listen to Cindy's interview with John here: NAFB18 Interview with John Mishler, John Deere
2018 National Association of Farm Broadcasting Convention Photo Album