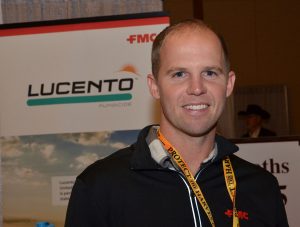 If there were an award for crop disease of the year, it would be a tie between two types of leaf spot this year, according to FMC Technical Service Rep Nick Hustedde.
"In corn, we've had a tremendous amount of grey leaf spot…in soybeans, it seems like frogeye leaf spot's the clear winner," said Hustedde, adding that both are caused by the fungus Cercospora.
Hustedde says FMC's new Lucento fungicide, which is expected to be approved for sale in the 2019 season, controls both grey leaf spot in corn and frogeye leaf spot in soybeans, as well as many other diseases. "It's a premix of a new SDHI molecule that we've been developing for a number of years and it's partnered with our in-house chemistry flutriafol, one of the most systemic triazoles on the market," he said.
Listen to an audio interview with Nick here and watch the video below:
NAFB18 Interview with Nick Hustedde, FMC