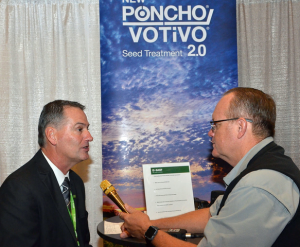 BASF looks to bring even more yield to growers with Poncho® /VOTiVO® 2.0, adding a third mode of action to a trusted family of products.
Since Poncho came on the scene in 2004, followed by Poncho/VOTiVO in 2011, the products have been providing secondary insect protection and yield boosts to growers. The newest product brings even more advantages, said Kerry Grossweiler, BASF Seed Solutions Product Manager.
"[It has] an additional biologic bacterial that increases the microbial activity in the soil around the corn roots. It results in additional nutrient availability and uptake by the corn plant," said Grossweiler.
Trials show that translates to an average yield increase of 3.8 bushels per acre over previous versions as it pushes the plant to work harder. Grossweiler encouraged growers to talk to local seed dealers about the opportunity do a trial with Poncho/VOTiVO 2.0 in 2019. Grossweiler was at the 2018 National Association of Farm Broadcasting Convention in Kansas City.
Listen to Chuck's interview with Kerry here: NAFB18 Interview with Kerry Grossweiler, BASF
2018 National Association of Farm Broadcasting Convention Photo Album