The National Corn Growers Association (NCGA) is joining forces with the Environmental Defense Fund (EDF) to address one of the most pressing challenges for farmers, rural communities and natural resources – how to improve environmental outcomes while optimizing productivity and profitability.
The partnership will work on gathering data for tracking of water quality, soil health and greenhouse gas emissions, and developing user-friendly technology solutions for data reporting and analysis. It will also include on-farm engagement to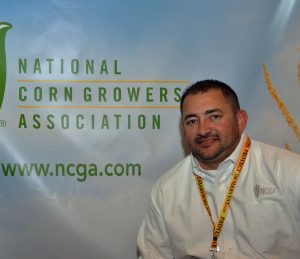 increase knowledge about innovative conservation tools and practices, policy advocacy to support voluntary conservation programs with measurable outcomes, and finding ways for farmers to benefit economically from conservation practices such as cover crops and conservation tillage.
The Soil Health Partnership, an NCGA initiative, has been working on making agriculture more productive and sustainable through improved soil health since it was started in 2015. Iowa farmer and NCGA First Vice President Kevin Ross was among the first to enroll in the program, which has been gathering data from more than 100 working farms enrolled in 12 states on progressive farm management practices such as cover crop usage to determine both economic and environmental sustainability.
In this interview from NAFB Trade Talk last week, Ross talks about the Soil Health Partnership 4th annual summit, January 15 – 16 in St. Louis, which is open to all growers and agronomists for the first time. He also talks about the new agreement between NCGA, United Soybean Board, and National Pork Board for sustainability research. NAFB18 Interview with Iowa farmer Kevin Ross, NCGA 1st VP
2018 NAFB Convention Photo Album