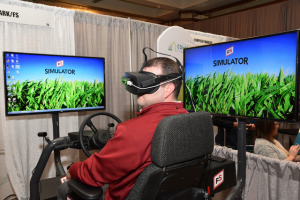 Using a sprayer simulator for training is not new to members of GROWMARK and FS System companies, but a virtual reality (VR) component is a recent addition.
"It's helped out our training quite a bit because you can move around and look up and down, but you can also lean forward and see your tires and everything, so the realistic feeling is definitely coming through with the new goggles that we have out," said Erik Wilcox, equipment manager for crop protection.
Wilcox said there is a need to fill a gap between operators with 30 or more years of experience who are near retirement, and those coming in with little or no experience. It can be costly to find a machine and ground to use for training, and weather is also a factor. The simulator allows for continuous training as new regulations and new operators come in, no matter the season.
GROWMARK is working to obtain more simulators that will be shared across the area where its member companies are located that would be available to train employees or to rent to others needing access to this type of training. Wilcox was at the 2018 National Association of Farm Broadcasting Convention in Kansas City.
Listen to Chuck's interview with Erik here: Interview with Erik Wilcox, GROWMARK
2018 National Association of Farm Broadcasting Convention Photo Album