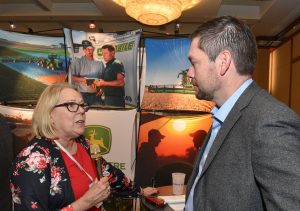 A new partnership between John Deere and Pheasants Forever will promote conservation on the farm.
"John Deere and Pheasants Forever just announced a new joint effort that will improve wildlife habitat across the country and provide discounts on select models of new John Deere equipment to Pheasants Forever members," said Lyle McMillan, tractor marketing manager for John Deere.
McMillan said John Deere will now become the "Official Habitat Tractor" for Pheasants Forever and the company also plans to sponsor a Conservation Farmer of the Year award to promote conservation practices. John Deere will also host workshops on how to maximize those returns on investment for every acre on the farm. McMillan was at the 2018 National Association of Farm Broadcasting Trade Talk event in Kansas City, where he also shared information about new features added to existing models this year including technology updates to 5R and 6R Series tractors.
Listen to Cindy's interview with Lyle here: Interview with Lyle McMillan, John Deere
2018 National Association of Farm Broadcasting Convention Photo Album