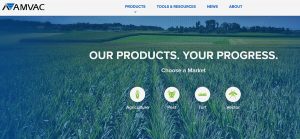 AMVAC Chemical Corporation has launched a newly enhanced customer website amvac-chemical.com. The website design includes a search function for agricultural and environmental protection products, retailers and field representatives, as well as marketing and sales campaigns and product promotions.
"With more than 50 percent of traffic coming from mobile devices, we wanted a better user experience for our retailers, farmers and other professionals who rely on our products," said Neil DeStefano, Director, Portfolio and Marketing/eCommunication Management at AMVAC. "The design ensures an equally user-friendly experience on laptops, tablets and mobile devices, while featuring our expanding portfolio of products, delivery systems and services."
Market pages for agriculture, pest and vector control, turf and application technology provide product information, how to purchase products, news and promotions. Product search functions are specifically tailored to each market, which allows users to find products by region and category or by crop and insect. Product pages also feature access to labels, photos, videos and other instructional materials.
We'll find out more about the new website and what all else is new from AMVAC this week at the National Association of Farm Broadcasting annual convention where AMVAC will be participating in Trade Talk.