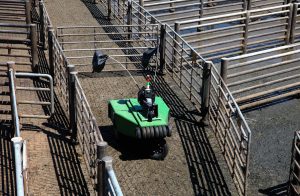 Cargill has developed the first ever robotic cattle driver to improve both animal welfare and employee safety.
The robots are designed to move cattle from pens to the harvest area, reducing stress to the animals by minimizing their proximity to human activity. Employees operate the robots from a catwalk located above the pens, reducing safety risks by keeping those who work in the cattle yard portion of processing plants at a safer distance.
Using waving automated arms, blowers and audio recordings to move cattle in a desired direction, the robots can operate in rain, snow or mud, with no delay in daily operations. Testing was conducted at Cargill's Wyalusing, Penn., and Schuyler, Neb., beef processing facilities to determine a design and operational attributes of the robot that would effectively improve animal welfare and employee safety before being implemented at the company's U.S. and Canadian beef plants.
The robotic cattle drivers are currently being implemented at Cargill Protein beef plants in the U.S. and Canada and are manufactured by the New Jersey-based company Flock Free, which is primarily a company focused on bird control for various industries.
Learn more about the Cowboy Robot from Cargill and watch it at work in this video –