BASF is helping support Hurricane Florence disaster relief efforts in North Carolina.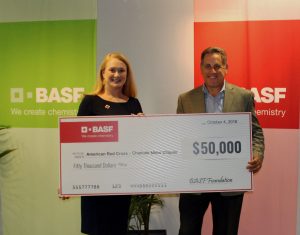 BASF has donated more than $150,000 in funds and supplies to the Food Bank of Central & Eastern North Carolina and the American Red Cross-Greater Carolinas, including equipment such as generators and extension cords. The donations were made on behalf of BASF employees at its Research Triangle Park and Charlotte locations.
The Food Bank donation of $50,000 will provide an additional 250,000 meals, water, and non-food essentials to partner agencies who are currently distributing needed resources to the thousands affected by the hurricane. "The Food Bank of Central & Eastern Carolina is one of our valued community partners in the Raleigh-Durham region and this donation helps families that are going through extreme food insecurity as a result of the hurricane," said Paul Rea, Senior Vice President, BASF Agricultural Solutions located in Research Triangle Park, North Carolina.
The American Red Cross is providing a range of relief services to those impacted by the hurricane in Charlotte and surrounding communities, including meals, snacks, overnight shelter, and mental health and health transportation. "Many BASF families live and work in the greater Charlotte area. We believe it is our responsibility to support the community, and areas surrounding our site, in their recovery from the impacts of Florence," said Gerry Podesta, Senior Vice President, BASF Dispersions & Resins located in Charlotte, North Carolina.