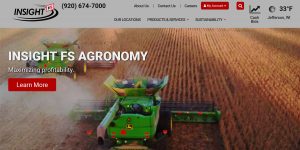 Insight FS launched the new InsightFS.com website this week to better communicate its products, services and customer connection capabilities.
"We have a broad base of customers, from homeowners looking for home heating solutions to farmers looking for seed, feed and energy," said Insight FS Marketing Specialist, Angie Greving. "We built a site that could address the needs of each of our audiences and get them to the right contacts for better customer experience."
The new website utilizes contact forms within each of its divisions to better address the unique needs of customers in agronomy, precision farming, grain marketing, agri-finance, animal nutrition, turf, propane and fuels and lubricants. The site also clearly shows the scope of products and services that are offered at the 22 Insight FS locations throughout Wisconsin and Michigan's Upper Peninsula.
Insight FS, part of the GROWMARK system, is headquartered in Jefferson, Wis., serving customers in Wisconsin and Michigan's Upper Peninsula.