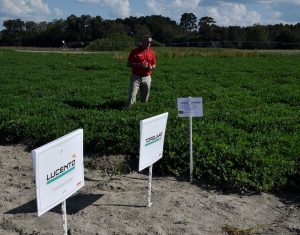 FMC Agricultural Solutions held a field day at its Sparks, GA research station last week, hosted by the FMC technical service team with a plot tour, presentations and certification training.
In particular, the FMC technical service team showcased new Lucento

fungicide for the 2019 season, pending EPA approval. The new fungicide, which is expected to be approved by the end of the year, can be used on a variety of crops but since the field day was being held in peanut country, that was a big focus.
"We've been known as mainly a Midwest company, for corn and soybean growers," said FMC Regional Technical Service Manager Bruce Stripling. "Now, we're focusing on that Southeast grower that has peanuts, especially in a state like Georgia."
Stripling says Lucento offers peanut growers flexibility. "He's not going to be tied to one company from the standpoint of what he can spray on his peanuts," he added. "We've got a product that is shining from the standpoint of leaf spot control and soil borne control for Southern white mold."
Learn more about Lucento for peanut growers here: Bruce Stripling, Regional Technical Service Manager, FMC
2018 FMC Georgia Field Day Photo Album
Lucento fungicide is not registered for sale or use in the United States. No offer for sale, sale or use of this product is permitted prior to issuance of the required EPA and state registrations.