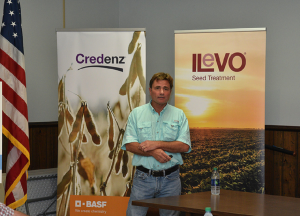 BASF explained the company's strategy for going to market to customers attending a field day in St. Joseph, Louisiana.
"We have three different positions – the business rep, the innovation specialist and the seed advisor," said Jerry Ford, regional seed lead for the South Delta region. "Our goal here was to make sure that our customer, the dealer, understands how we're going to market, who calls on who, and just make them comfortable with the process."
Ford said there is still some confusion about what exactly BASF gained through the Bayer acquisition, and this event gave the company an opportunity to introduce people, facilities and products.
"We just want our customers to understand that BASF is serious about the seed business. We got into the seed business to succeed. We've got a tremendous amount of knowledge and a tremendous amount of very qualified people that came to us from Bayer, and we're excited to put all of this together and come to market with a rea strong package of seed and herbicide technology," said Ford.
Listen to Chuck's interview with Jerry here: Interview with Jerry Ford, BASF