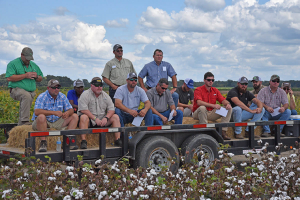 Events like the recent BASF Field Day in St. Joseph, Louisiana, are helping the company's customers to better understand what BASF looks like moving forward. The program also gave a great deal of information about new cotton and soybean varieties that will soon be available.
"It gives us vast knowledge of upcoming crops as far as varieties go for the future," said Greg Sadler, Region 2 Director with GreenPoint AG.
Sadler said he's looking forward to the opportunity to further explore these new products.
"[There are] a lot of new varieties that I wasn't familiar with," said Sadler. "All of them look like they've got a really good yield potential for cotton and soybeans. I think there's a lot of good genetics with BASF's organization in cotton and beans."
Listen to Chuck's interview with Greg here: Interview with Greg Sadler, GreenPoint Ag