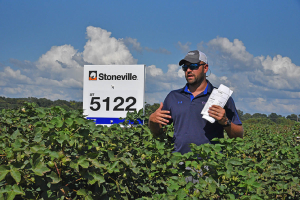 BASF showcased successful cotton and soybean varieties during a recent field day in Louisiana.
Regional agronomist Kyle Fontenot shared strengths of Stoneville 5471 GLTP, which includes the Twin Link Plus trait package and had some of the highest yields in 2017. It will be a key variety moving forward, boasting a good fiber package and solid disease package. Complementing that variety are Stoneville 5122 GLT and Stoneville 5818 GLT, which also fit well into the Mid-South growing environment.
On the soybean side, Credenz 4540 LL and Credenz 4918 LL are highlights in the portfolio, as 4540 brings yield potential, a good disease package, and holds up well even during challenging harvest seasons. 4918 is a great complement to that, especially on irrigated, lighter ground. Other varieties to watch include Credenz 4222 LL and Credenz 4308 LL. Both show good yield potential and have the right plant type and a good disease package.
"From a portfolio standpoint we have a lot of options there to bring growers the diversity they need on the farm," said Fontenot, who works in the South Delta region.
Fontenot said growers can be looking for new soybean varieties, including Credenz GT27 with glyphosate, Liberty and HPPD tolerance.
Listen to Chuck's Hot Topics interview here: Hot Topics Interview with Kyle Fontenot, BASF
Listen to Chuck's in-depth interview with Kyle here: Full Interview with Kyle Fontenot, BASF