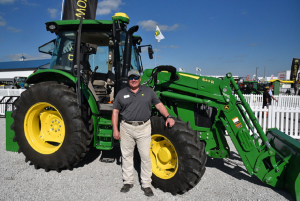 John Deere introduced Model Year 2019 updates to its 5R Series of utility tractors at the 2018 Farm Progress Show.
"We're really excited about the additional options that we're offering on our 5R series utility tractors. Some of them are a first for our utility tractors, especially when it comes to technology," said John Doyle, product marketing manager.
In addition to new technology, new features also include improvements to steering and suspension. A reconfigurable joystick is another upgrade that will provide ease of use for operators. Doyle said published test results also show the 5R Series tractor to be the most fuel efficient utility tractor in its class.
The 2019 models will be available for order beginning November 1, 2018.
Listen to Chuck's interview with John here: FPS18 Deere interview with John Doyle, 5R series utility tractors