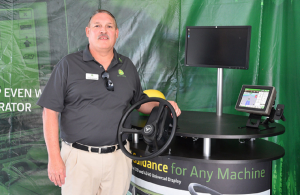 John Deere rolled out the new 4240 Universal Display, AutoTrac

Universal 300 guidance solution and updated 18-2 Gen 4 software during the 2018 Farm Progress Show in Boone, Iowa.
The guidance system offers ergonomic improvements for users and can fit into hundreds of different machines, according to John Mishler, tactical marketing manager. He said the display offers more choices for customers, and noted both units have weather resistant casings to protect from snow, rain and dust.
"I think really it's all about being able to extend that Gen4 experience to more of a customer's fleet," said Mishler. "Some customers don't have all John Deere equipment with integrated AutoTrac. So this gives them the opportunity to use John Deere AutoTrac along with a Gen4 auto display and really have that same user experience across their entire machine fleet."
The new products are available for order from John Deere dealers now, with shipments scheduled for later this year.
Listen to Chuck's interview with John here: FPS18 Interview with John Mishler, Deere tactical marketing manager
John Deere at 2018 Farm Progress Show Photo Album