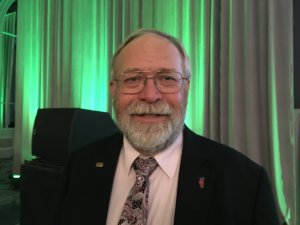 Over the course of his 28 years of service on the GROWMARK Board of Directors, Illinois farmer Rick Nelson has seen a lot of change in the organization.
When he was elected to the board in 1990, the cooperative operated exclusively in Illinois, Iowa and Wisconsin. Nearly 30 years later, GROWMARK has a presence in at least 40 states, as well as Ontario, Canada. While tremendous growth is the biggest change Nelson has seen, there were plenty of challenges and difficult decisions faced over the years. He said he was fortunate to farm with his father in the early years and more recently with his son, as serving on a board like this one does take time away from the farming operation.
"Serving on a co-op board at whatever level you do that is a time commitment," said Nelson, who farms near Paxton, Ill. "It's a passionate commitment. You need to be dedicated to doing that because it will draw you away from your own personal activities or farming activities at times that are inconvenient. But that's what the job involves, so you accept that commitment when you come on and live by that."
Nelson named the decision to purchase assets of companies in the eastern part of the country as major decisions he'll remember from his time on the board. He also called his Cooperator of the Year award for Illinois in 2017 a personal highlight. Nelson is retiring from the GROWMARK Board, but will continue farming and will also continue as president of his local cooperative elevator board.
Listen to this interview from the GROWMARK annual meeting: Interview with Rick Nelson, Vice Chairman of GROWMARK Board of Directors