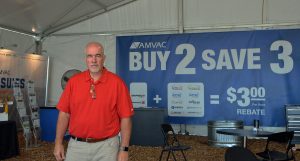 At the 2018 Farm Progress Show this week, AMVAC® Chemical Corporation announced the launch of Force 10G HL Insecticide for field corn, seed corn, sweet corn and popcorn.
Force 10G HL has a reliable pyrethroid mode of action for proven control of corn rootworms and seed-attacking pests, including Mexican corn rootworms, northern corn rootworms, southern corn rootworms, western corn rootworms, cutworms, lesser cornstalk borers, white grubs, wireworms, seedcorn maggots and seedcorn beetles. With three times the amount of active ingredient than in Force 3G Insecticide, growers get the performance they expect with the convenience of fewer SmartBox® containers, refills, pallets to store and boxes to unload, leaving more time to plant.
"AMVAC's new high load granular insecticide allows growers to plant more acres with fewer refills," said Jim Lappin, AMVAC crop marketing manager, corn and soybeans. "AMVAC's SmartBox closed system protects the applicator and Force 10G HL protects corn roots for healthier, stronger stands and better returns from the fields."
AMVAC is offering a grower rebate of $3/per acre with the purchase of Force 10G HL and either Impact® or ImpactZ® Herbicide in the same growing season.
Audio – FPS 18 AMVAC Jim Lappin on new Force 10G HL and Buy 2 Get 3