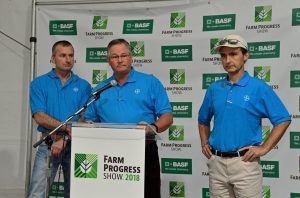 There were lots of people at the Farm Progress Show this week wearing different hats – or shirts – as a result of Bayer's acquisition of Monsanto, which just became final-final this month. There were former Monsanto people now working for Bayer and former Bayer people working for BASF now, and let's just say it will take some time before everyone gets used to it.
Brett Begemann was president and COO for Monsanto up until this month when he became CEO of Crop Science Commercial Operations for Bayer – or maybe Chief Operating Officer for Bayer Crop Science – his title is not entirely clear. He says their goal is to "take a terrific crop protection portfolio, a great seeds and traits portfolio, the world's best digital platform for agriculture and bring those together into one company … to drive innovation in agriculture faster than we've seen agriculture drive innovation before."
Begemann was joined by two other Monsanto legacy execs now with Bayer – Bob Reiter, head of Research and Development at Bayer Crop Science, and Jesus Madrazo, head of Agricultural Affairs & Sustainability, to talk about how they are growing stronger together and to take questions from the media.
Listen here: #FPS18 Bayer Monsanto Integration press conference