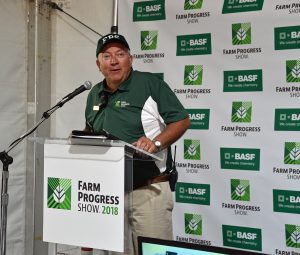 The 2018 Farm Progress Show is officially underway now with the opening press conference in the media tent.
Don Tourte, Farm Progress Sr. Vice President, Sales & Events Advertising, kicked off the show saying it may be the best show he has seen in his over 20 years with the event.
Once again, the media is being kept cool thanks to BASF, which sponsors the media tent that provides food and fun in air conditioned comfort.
Listen to welcoming remarks from Tourte and BASF – #FPS18 Opening Press Conference
Photo album is started and will be constantly updated:
2018 Farm Progress Show Photo Album