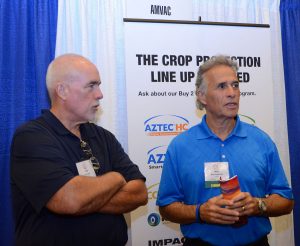 Like pretty much everyone in the corn and soybean belt, AMVAC Chemical is gearing up for Farm Progress Show next week in Boone, Iowa.
Neil DeStefano, AMVAC director of portfolio management and marketing communications, is really excited about this year's show and what they will have on display for farmers. "We're really going to have two booths in one – our traditional product portfolio and then our SIMPAS exhibit," said DeStefano during an interview at Ag Media Summit. "SIMPAS stands for Smart Integrated Multi-Product Prescriptive Application System…so we're going to have a really cool interactive exhibit at Farm Progress." Watch a video about SIMPAS here.
Learn more from Neil in this interview. Interview with Neil DeStefano, AMVAC, about SIMPAS and Farm Progress preview
On the product side, ImpactZ

Herbicide for control of glyphosate-tolerant weeds and grasses in corn will be in the spotlight. Jim Lappin, AMVAC Chemical marketing manager for corn and soybean portfolio, says ImpactZ

has had a very successful first year on the market. "One of the segments that has been growing very quickly is adding more residual herbicides in an early post-emergence application," said Lappin, who explains that the combination of Impact and atrazine provides two modes of action and can be tank mixed with other residual herbicides.
Listen to Lappin explain the benefits of ImpactZ.
Interview with Jim Lappin, AMVAC, about Impact Z