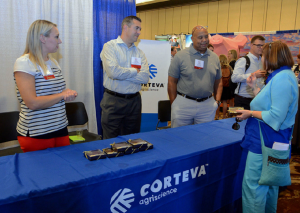 Corteva Agriscience continued the longstanding partnership of its legacy companies with the Ag Media Summit as a gold sponsor this year.
The company is working to ensure all agriculture stakeholders know the new business name and what it stands for.
"[It's] very important for us as Corteva Agriscience in our first year to get our name out there and talk to a lot of these great ag journalists and explain to them who we are and what we're going to be, and just get out there and make sure that we're connecting with everyone," said Gregg Schmidt, head of external communications.
The company's name combines "cor" meaning heart and "teva" meaning earth, celebrating a rich agricultural history for both Dow and DuPont, the companies that merged to form the new venture.
"We've got a presence all around the world, but we are excited to connect with our consumers and customers and be the only pure play agriculture company in the world when we eventually spin off in 2019," said Schmidt, who noted that senior leaders at Corteva have been meeting with farmers, customers and ag journalists to be sure the Corteva name is one everyone understands.
Listen to Cindy's interview with Gregg Schmidt here: Interview with Gregg Schmidt, Corteva Agriscience