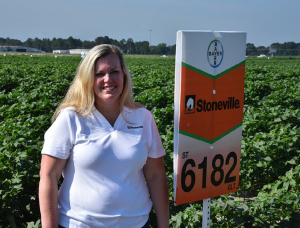 Stoneville showcased a number of cotton varieties at the recent Sunbelt Ag Expo Field Day. Chuck spoke with Rachel Walters, Stoneville cotton marketing manager, about a few of the standouts.
ST 6182GLT showed strong performance in land-grant university on-farm trials in 2017. On dryland or under irrigation, ST 6182GLT delivers the opportunity for excellent yield and good fiber quality in varied soil types.
"This is our highest yielding variety that we had in Georgia trials last year, so a lot of excitement around the state of Georgia with this variety as we've started the season off. It's looking really great," said Walters. "This is an excellent performance variety across many situations."
Interview with Rachel Walters, Stoneville 6182GLT
ST 5818GLT was specifically released due to its performance under dryland conditions in the Southeast. It is a new variety that is quick to produce a stand with its early-season emergence vigor, has a growth pattern that is easy to manage and produces a good size stalk for superior standability. With a strong fiber package, a smooth leaf and excellent yield potential, ST 5818GLT is a perfect fit for the SE production system.
"If you're looking for excellent yield potential, exception yield quality, you'll get that from this variety," said Walters.
Interview with Rachel Walters, Stoneville 5818GLT
Walters said another new variety in 2018 is ST 5471GLTP, which offers resistance to bacterial blight and very good tolerance to Verticillium wilt ensures this smooth-leaf variety starts strong and stays strong all season. ST 5471GLTP consistently delivers on its excellent yield potential and fiber quality package, regardless of the environment.
Interview with Rachel Walters, Stoneville 5471GLTP
She said ST 5122GLT also delivers outstanding yield potential and fiber quality. This smooth leaf variety fits the early- to mid-maturity spot on the farm and offers very good tolerance to Verticilliumwilt.
Interview with Rachel Walters, Stoneville 5122GLT
Walters also highlighted ST 4848GLT, which comes out of the ground strong, whether planted to dryland fields or under irrigation. This variety follows through on that seedling vigor with exceptional yield potential, high gin turnout and very good fiber quality. With moderately aggressive growth habits, ST 4848GLT is easy to manage.