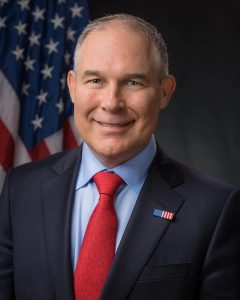 Well, here's news that probably won't upset too many people I know. I'm actually amazed that this didn't happen much sooner. Of course this had to happen during a pretty much vacation week for the ZimmComm Team and many, many other folks.
Here's some industry reaction on the announcement. I think you can sum it up that everyone is pretty happy about it.
President Trump's Tweet announcing his acceptance of Pruitt's resignation
National Corn Growers Association (NCGA)
Quote from Kevin Skunes, president and North Dakota Farmer:
"It's no secret corn farmers have been frustrated with Scott Pruitt's ongoing actions over the past year that have seriously undermined the Renewable Fuel Standard (RFS).
Growth Energy
Quote from Emily Skor, CEO:
"Administrator Pruitt's tenure as administrator of the EPA put a heavy strain on this administration's relationship with supporters, farmers, and biofuel producers across the heartland.
Renewable Fuels Association
Quote from Bob Dinneen, CEO:
"For the past year, Scott Pruitt had been waging war against the Renewable Fuel Standard (RFS), the biofuels industry, and the millions of farmers and rural Americans who helped Donald Trump get elected.
National Biodiesel Board
Kurt Kovarik, Vice President of Federal Affairs:
"The EPA plays an important role in implementing policies that have a great impact on our industry. For that reason, we look forward to working with Mr. Wheeler and hope he will act more in line with President Trump's support for America's farmers, biofuels producers and the Renewable Fuel Standard."