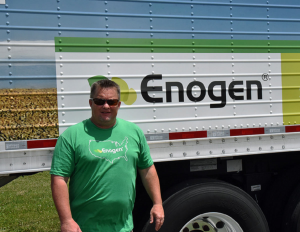 Among fans attending the NASCAR Xfinity Series Iowa 250 presented by Enogen at Iowa Speedway on Father's Day was Craig Ehlers, a farmer and Golden Harvest dealer from northwest Iowa.
Golden Harvest is expanding its 2019 portfolio with 37 new corn hybrids and 17 new soybean varieties. Among the new offerings are seven new Enogen hybrids for use in selected geographies. Ehlers said Enogen is an important part of his business because it helps his customers to be more profitable.
"It's not something we have to buy from across seas and bring in. Enogen helps the guys that are growing it make more money on each acre they grow," Ehlers said, noting one of his customers estimates Enogen adds about $100 per acre of value to his operation. During many growing seasons, that could be the key difference between profit and loss on the farm.
Ehlers is in his fifth year as a Golden Harvest dealer, where he appreciates what he can offer to fellow growers.
"Innovation is key to making tomorrow better," he said. "It's what we do today to help make tomorrow better, and being part of Golden Harvest and the Enogen program, I can see the future of helping guys make more money."
Listen to Chuck's interview with Craig here: Interview with Craig Ehlers, Golden Harvest dealer, Iowa
2018 NASCAR Xfinity Series Iowa 250 presented by Enogen Photo Album