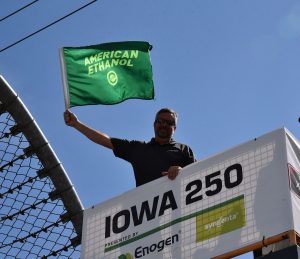 For the sixth consecutive year, Syngenta Enogen sponsored NASCAR® racing at Iowa Speedway in Newton, Iowa this past weekend.
The Iowa 250 NASCAR Xfinity Series race presented by Enogen on Sunday highlighted both corn and ethanol around the track and allowed Syngenta to thank some of the farmers who are enzyme suppliers for their local plants.
Chris Tingle, head of commercial operations for Enogen at Syngenta, says Enogen premiums-to-date paid to Enogen corn growers are expected to surpass $100 million this year. "This is a milestone year for Enogen corn and we are pleased to be able to take this opportunity to say thank you to the ethanol plants and corn growers who are making this game-changing technology a success. To do so in collaboration with NASCAR makes it even more special."
NASCAR has been supporting American ethanol since 2011, when it began using Sunoco Green E15, (15 percent ethanol) in all three touring races. Grower account lead Craig Abell had the opportunity to check an item off his bucket list when he waved the green American Ethanol flag to start the race. "Been watching NASCAR for 30 years, so I've prepared for this moment my entire life!" said Abell
By the end of 2018, Syngenta anticipates more than 280 million bushels of Enogen corn will have been grown on nearly 1.5 million acres and contributed to approximately 7 billion gallons of ethanol produced.
Listen to interviews with Tingle and Abell to learn more about the Enogen technology and how it is helping both corn farmers and ethanol producers be more profitable.
Interview with Chris Tingle, Syngenta Enogen
Interview with Craig Abell, Syngenta Enogen
NASCAR Xfinity Series Iowa 250 presented by Enogen Photo Album