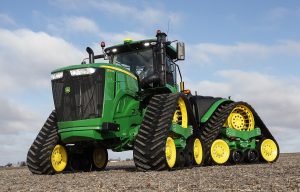 John Deere's 2019 lineup of large 9R, 9RT and 9RX tractors will feature technology updates and other enhancements.
For the first time, John Deere is offering a 120-inch track spacing option on 9470RX, 9520RX, 9570RX and 9620RX Series Four Track Ag Tractors equipped with 30- and 36-inch tracks.
"The extra wide stance of this machine is ideal for customers wanting to control traffic patterns and enhanced stability on hilly terrain," says Tiffany Turner, product marketing manager, large tractors for John Deere. "A wider stance also makes it easier to perform daily maintenance and service plus it offers hassle-free material cleanout."
Turner says customers requiring a John Deere 9RX equipped with a 3-point hitch must select the 87-inch track spacing option with the 30-inch tracks as the wider 120-inch track spacing is not compatible with a 3-point hitch.
Deere is also offering the option of a factory- or field-installed Hydraulic Intelligent Power Management (IPM

) system to boost tractor performance when operating implements requiring continuous hydraulic power. A factory-installed Generation 4 CommandCenter

18-1 Software update is also included as base equipment for model year 2019 on John Deere 9R, 9RT and 9RX Tractors. A CommandCenter AutoTrac

activation comes with the MY 2019 update and provides a non-transferrable, machine-specific AutoTrac functionality on the integrated Gen 4 Command Center. The previously available Command Center Premium Activation will be discontinued and replaced with the 4600 CommandCenter Premium Activation 3.0 or 4600 CommandCenter Automation 1.0.