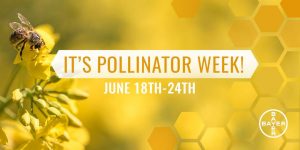 In celebration of National Pollinator Week, Bayer is hosting live webinars showcasing innovative bee health research and practical applications for improving honey bee colony health.
This is the second year that Bayer has hosted the webinars featuring researchers working on projects funded through Bayer's Healthy Hives 2020 initiative, in partnership with Project Apis m. and hosted by Bee Culture. New this year, they'll be joined by beekeepers highlighting the practical applications and real-world implications of the researchers' work in the bee health landscape.
Hive Management 2.0: Developing a Practical Tool for Commercial Beekeepers – Tuesday, June 19, 12 – 1 p.m. EDT
Featuring Dr. Brandon Hopkins, Assistant Professor, Department of Entomology at Washington State University, and Brody Tomazin, Commercial Beekeeper at 2J Honey Farms and Round Valley Honey Company and President, Idaho Honey Industry Association
The Changing Face of Deformed Wing Virus – Thursday, June 21, 12 – 1 p.m. EDT
Featuring Dr. Stephen Martin, Professor, School of Environment & Life Sciences at University of Salford, Manchester, UK, and Randy Oliver, Commercial Beekeeper and Founder of ScientificBeekeeping.com
Click here for more information and registration.
The Healthy Hives 2020 initiative is a $1 million research effort to improve the health of honey bee colonies in the U.S. by the end of 2020. The National Pollinator Week webinar series is an extension of Bayer's commitment to research, education, partnerships and stewardship to address the needs of honey bees.