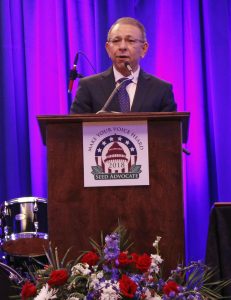 The American Seed Trade Association (ASTA) announced the winners of its 2018 seed industry awards last week during the Policy & Leadership Development Conference in Washington, D.C.
The ASTA Distinguished Service award was presented to Osama El-Lissy, Deputy Administrator for the USDA Animal and Plant Health Inspection Service's (APHIS) Plant Protection and Quarantine (PPQ). The award recognizes those whose efforts have made a significant contribution to the association and the seed industry.
The ASTA Honorary Lifetime Member award was presented to Wendell Howard, Warner Seed, Inc. Honorary Members distinguish themselves through leadership, vision and service.
During his career, Warner has held a number of volunteer leadership positions with the industry, including serving as President of the Texas Seed Trade Association from 1992-93, President of the Southern Seed Association in 1999, and President of the Western Seed Association in 2014.