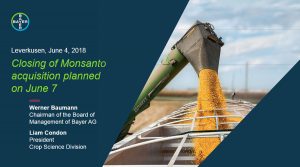 Bayer intends to complete the acquisition of Monsanto this Thursday, June 7, following the receipt of all required approvals from regulatory authorities.
"The acquisition of Monsanto is a strategic milestone in strengthening our portfolio of leading businesses in health and nutrition. We will double the size of our agriculture business and create a leading innovation engine in agriculture, positioning us to better serve our customers and unlock the long-term growth potential in the sector," said Werner Baumann, Chairman of the Board of Management of Bayer AG.
Bayer will become the sole shareholder of Monsanto on June 7. According to the conditional approval from the United States Department of Justice, the integration of Monsanto into Bayer can take place as soon as the divestments to BASF have been completed. This is expected to be in approximately two months. "We have diligently prepared for the upcoming integration over the past two years. Our extensive experience in integrating other large companies has proven that we can and will be successful," said Baumann.
Bayer will remain the company name. Monsanto will no longer be a company name. The acquired products will retain their brand names and become part of the Bayer portfolio.
Baumann and Crop Science president Liam Condon announced the details of the closing in a European press conference Monday, and Condon conducted a call with U.S. journalists.
Bayer executive Werner Baumann and Liam Condon opening statements