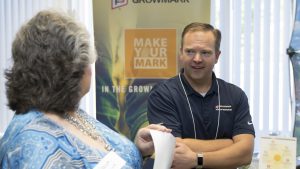 Although GROWMARK and its FS Member companies are clearly rooted in agriculture, a farming or agribusiness background is not required to thrive as an employee there.
GROWMARK's Director of Talent Management Tom Swearingen is a prime example of that. Originally a commercial airline pilot, Swearingen left that industry after the events of 9/11/2001 changed it forever, and came back to his hometown to work as a corporate pilot for GROWMARK and Country Financial. He eventually became the chief pilot for those companies, and then grew into the position of Director of Corporate Services before taking on his current job. Along the way, Swearingen took advantage of tuition assistance and completed his MBA while working at GROWMARK. He said the training and development the company offers to all 6,000 system-wide employees is unparalleled.
"We genuinely believe that our employees are our greatest resource, so why would you not invest in your greatest resource to continually make them better, both personally and professionally?" asked Swearingen.
He said it's important not to discount agriculture as a career path, even if you didn't grow up with it. Companies like GROWMARK want specialists in a variety of areas to bring their skills and an open mind.
"Eventually, when someone comes to work here, we want them to get a better understanding of agriculture, but that's not a prerequisite when they come in the door," Swearingen said, noting there is another great reason to work in agriculture. "I think in today's world, now more than ever, employees are looking for a cause or something larger than themselves to be a part of, and I know for me, I personally can't think of a better thing to be part of than to help farmers feed the world."
Hear more with Tom Swearingen here: Tom Swearingen, GROWMARK