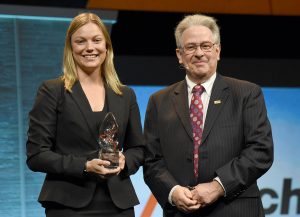 The winners of the Alltech Young Scientist (AYS) program were announced on day two of #ONE18. Each of them were presented with their award by Alltech's Dr. Karl Dawson on stage during the general session here at The Alltech Ideas Conference. "We reviewed projects representing 86 universities," said Dr. Karl Dawson, vice president and chief scientific officer at Alltech. "These young scientists demonstrate that the future of scientific discovery is bright."
Alltech says it is the world's largest agriscience competition. It offers the brightest scientific thinkers from colleges and universities across the globe an opportunity to compete at the highest level and be rewarded for their innovative research. The program is in its 13th year.
The undergraduate winner of $5,000 and a fully funded Ph.D. program at the university of her choice is Leesa-Joy Flanagan, representing the University of Adelaide in Australia. Her work focused on the effects of different sources of undegradable dietary protein on lamb growth, daily weight gain and voluntary feed intake. Interview with Lessa-Joy Flanagan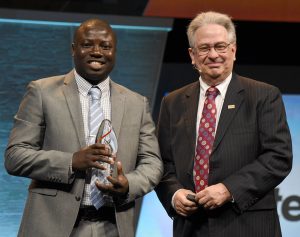 The competition includes several stages: a nomination phase, regional phase and global phase. The winners receive cash awards and an all expenses paid trip to Lexington, KY which includes attending the Alltech Ideas Conference.
Students are encouraged to join Alltech in pursuit of solutions in animal health and nutrition, crop science, agriculture analytical methods, food chain safety and traceability, human health and nutrition and other agriscience-related sectors, while also gaining valuable experience with the company's global team.
The graduate winner of $10,000 and a fully funded postdoctoral position is Saheed Salami, representing the University of Catania in Italy. His research investigated cardoon meal as a novel feed and its effect on lamb performance, rumen function and meat quality. Interview with Saheed Salami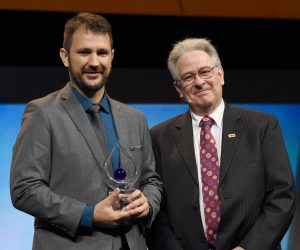 To participate in the program you must be nominated by your professor. You can find out more about participating and registering on the Alltech Young Scientist website.
The newly added Impact Award recognized a project with the potential to make a significant impact on agriculture. The winner of the $1,000 prize is Moisés Poli from Universidade Federal de Santa Catarina in Brazil. His research focused on Pacific white shrimp and Nile tilapia integration in a biofloc system under different fish stocking densities. Interview with Moisés Poli