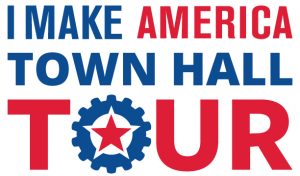 The Association of Equipment Manufacturers (AEM) is working to further engage voters about issues important to the growth and success of the manufacturing industry.
"From much-needed investment in infrastructure and continued regulatory reform to the future of free trade agreements and the long-term prosperity of agricultural communities, there are certainly enough issues at play to make the midterm elections critical to the future of manufacturing in this country," said AEM President Dennis Slater.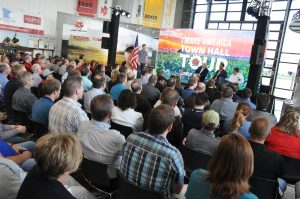 The "I Make America Town Hall Tour" kicked off on Thursday, May 17 at AGCO Corporation's manufacturing center in Jackson, MN with a discussion about the symbiotic relationship between the agriculture economy and the equipment manufacturing industry. About 160 AGCO employees attended the event. The next stops include Doosan-Bobcat's production facility in Bismarck, ND, on Aug. 16 and and Terex Corporation's Genie manufacturing facility in Redmond, WA, on Sept. 20.