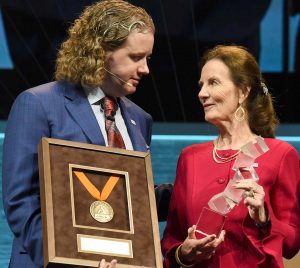 For the first time in the history of the Alltech annual conference, the company bestowed a double award recognizing Alltech's founder, Dr. Pearse Lyons. The extraordinary entrepreneur recently passed away and the ONE 18, Alltech Ideas Conference has provided an opportunity to celebrate his life and achievements.
Dr. Mark Lyons, Alltech President and his mother Diedre Lyons, accepted the awards.
"He was constantly encouraging us to be the best we could be for those around us so that they could flourish and become the best they could be," said Mark, reflecting on Dr. Lyons' goal that Alltech should be built on passion, excellence and fun. "He wanted them to live with those values he had, and that excellence, something that he and my mother shared — maybe she even more so."

The Alltech Medal of Excellence, Alltech's highest distinction, was awarded to Dr. Lyons for his work as a visionary scientist. As an entrepreneur and a tireless innovator, Dr. Lyons utilized his scientific expertise in yeast fermentation and his acute business sense to revolutionize the animal feed industry through the introduction of natural ingredients to animal feed. In the past 10 years alone, his scientific achievements have been listed in more than 300 patents.
Additionally, he was recognized with the Alltech Humanitarian Award for having a boundless philanthropic spirit. The award is bestowed annually to someone of strong character who uses their platform to positively influence and inspire those around them. For Dr. Lyons and Mrs. Deirdre Lyons, making a difference in the world by empowering others has been an everyday reality of their personal and professional lives.
"We cannot replace Dr. Pearse Lyons, nobody can," said Mark. "But if we start to think like him, if we can get 10 people, 100 people, 1,000 people thinking like him, imagine what we can achieve together."
It was a very emotional moment here at the conference and I don't think there was a dry eye among the attendees.