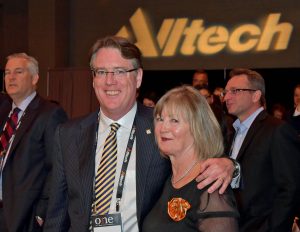 ONE: The Alltech Ideas Conference 2018 kicked off Sunday night with the traditional international dinner, but the real work starts this morning and Alltech Vice President Aidan Connolly says they will be focusing on ideas that are disrupting the industry.
"Some things you might not think about so much include 3-D printing, we are starting to see that more and more for machinery parts," said Connolly. "We've been talking a lot about what could be possible with respect to virtual reality, to engage consumers."
The conference will also feature five of the Pearse Lyons Accelerator program participants who will showcase some of their ideas that could transform agriculture.
Learn more in this pre-event interview with Aidan. Interview Alltech vice president Aidan Connolly on ONE18
Chuck and Jamie are on-scene at the conference and will be providing updates on @AgWired Twitter, taking lots of photos and sending back lots of interviews. One of the first this morning will be USDA Under Secretary of Agriculture for Farm and Foreign Agricultural Services Bill Northey. Stay tuned for more!