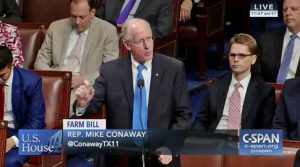 House Agriculture Committee Chair Rep. Mike Conaway (R-TX) delivered on his promise to get a farm bill written in a timely manner, but his colleagues in the House voted 198-213 Friday to reject his effort.
Prior to the vote, Rep. Conaway expressed his frustration as a last minute amendment was introduced to recommit the bill with instructions to the Committee on Agriculture. "You can love the farm bill or you can hate the farm bill but it delivers the most effective, affordable and safest food and fiber supply of any developed nation in the world," said Conaway.
Democrats voted against the bill mainly for changes to the Supplemental Nutrition Assistance Program (SNAP) aimed at getting able-bodied adults under 60 without dependents or disabilities back to work, but it was 30 conservative Republicans wanting a vote on immigration that killed the bill.
Listen to Rep. Conaway's remarks here: House Ag Chair Rep. Conaway