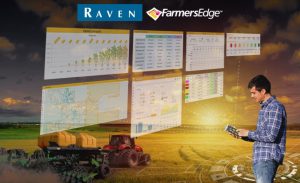 Raven Industries and Farmers Edge have joined forces in a marketing and collaboration agreement.
The two companies are working together to develop new precision agriculture technologies that will rapidly increase expansion of Farmers Edge digital agronomy and risk management solutions in key markets. The collaboration leverages the use of streaming data transfer between CanPlugs and Raven Slingshot® and field computers.
This collaboration aligns powerful analytics with unparalleled data sets that provide a single point for growers to visualize, analyze and make all farm management decisions. It incorporates Raven's precision agriculture hardware, high-speed connectivity and variable rate technology with Farmers Edge complete and independent precision digital solutions powered by billions of on-farm data points. This translates to simplified agronomic and input management for growers.