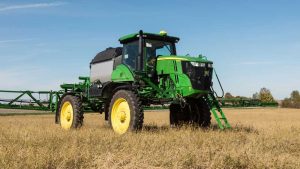 John Deere's new R4044 Sprayer offers a lightweight, 1,200-gal. capacity option for customers wanting to reduce crop and soil impact.
"Oftentimes, application windows are very narrow, so having a sprayer that can quickly handle the jobs with less crop damage or impact on the soil is a big advantage," explained Doug Felter, product marketing manager for John Deere application equipment. "The addition of the R4044 to the 4-Series family fills that need perfectly."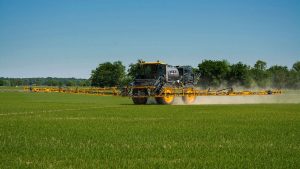 The company is also announcing changes to model year 2019 Hagie sprayers, now powering the largest Hagie STS Sprayers by 6.8L PowerTech John Deere diesel engines. A redesign of the engine compartment and hood on the STS10 and STS12 accommodates the new engines, while incorporating a new tool box and air intake scoop.
"Commonality of engines across all John Deere and Hagie Sprayer platforms makes sense from a customer service perspective, making it easier and convenient for customers to get their sprayers serviced by their local John Deere dealers, no matter which brand they own," Felter said.
For more information on the changes and updates to Hagie Sprayers for model year 2019, as well as other sprayer innovations from John Deere and Hagie, contact your local John Deere dealer or visit JohnDeere.com/ag.